I visited the Diving Equipment & Marketing Association or DEMA Show for the first time in October at the Orange County Convention Center in Orlando, FL. The visit was long overdue. This massive structure is the home of Surf Expo an event I've written about for many years.
http://www.demashow.com/
The DEMA Show is advertised as the ONLY international trade-only event for the diving, action water sports and travel industries. DEMA is comprised of 1300 member companies with the stated mission of "To Promote sustainable growth in recreational diving and snorkeling while protecting the environment."
Moving inside
The DEMA Show differs dramatically from Surf Expo in some respects including the large number of seminars. This is a listing of events to be held during the four days of the show.
Part of the show floor. Certain geographic areas were gathered into "streets" of exhibitors.
I went up for the show on Saturday and therefore was unable to examine each booth in detail but instead visited a selection, some of which are described here. Photos, website links, some videos and background are presented for the exhibitors. There will be at least one more installment on the exhibitors that will be examined here, perhaps more.


***
First stop, the Freediving Instructors International booth. Going from left to right, Angel (Marketing Manager), Douglas Peterson (General Manager), Niki Roderick (Operations Manager), Martin Stepanek (Director of Education and Development), Mark Lozano (FII USA West Coast L1/L2 Instructor), David Cani (FII Europe), and Alex Diaz. Not shown is Brett Scaglione of Barry University and FII Instructor also attending.
Martin offered daily seminars on the "Business of Freediving." Free diving may offer a growth sector in these stressed times for dive businesses. He also did a number of pool events. These included a remarkable static breathhold of 7 minute 30 seconds! "Double your Breathhold in 30 minutes Challenge" was also held with impressive results for people stepping up from the show floor. You can read more about FII DEMA events, course offerings and other information at:
http://www.freedivinginstructors.com/?stranka=news
I've had the opportunity to participate in several of Martins programs including courses, winter training sessions, competitions and a recent trip to the Red Sea. Photos from some of these events appear below as thumbnails and in full size with lots more at:
http://fksa.org/forumdisplay.php?f=92&order=desc&page=2
and throughout the rest of that forum on other pages.
A couple of interesting videos from the recent FII Red Sea Free Diving Trip appear below;
Free Diving with the Dolphins of Sataya
A bizarre look at a shallow sled dive
NOTE: many of the videos highlighted in this article shot by myself, were taken with the GoPro WIDE camera. I think you will agree,
the imagery is unusual for a very affordable camera. I usually carry one in my hand and an other in the chest mount. Could mount even
more without too much fuss for more camera perspectives.


***
Here are faculty from the Sport Management-Diving Industry Program of Barry University. In Miami, FL. This program offers an opportunity for diving professionals to earn a Baccalaureate in this exciting area. It is the only four year program of its type in the world. This is what they have to say about the program, "The SM-Diving Industry program is committed to developing well-educated leaders for an exploding global market of adventure travel, tourism and the related industries that support these leisure activities. Those who are passionate about diving can turn an avocation into the vocation of a lifetime." Brett Scaglione (on the right) is an Instructor within this program and an FII free diving instructor. More about this program at:
http://www.barry.edu/diving/programOverview.htm
In the first photo, Brett administers a test to a free diver shortly after surfacing. He was doing a study on diving physiology during our trip to the Red Sea. In the next image, Brett applying some of that extensive knowledge scootering over a reef recently in the Red Sea


***
Here is Atlantis Dive Center's booth manned by Captain Scotty Gray.
http://www.captainslate.com/
I first met Spencer Slate, "Slate" to the world at our YMCA ITC in 1976! We both got our instructor certifications, Slate stayed in and I moved on land in time. He started Atlantis at the north end of Key Largo in 1978 and has been going strong since with a worldwide clientele. Slate specializes in showing off the wonders of the reefs, wrecks & life off Key Largo via a bunch of dive boats, day and night. It is the first shop you hit at Mile Marker 101.5. A few photos appear below:
* (Bottom row photographs by Frazier Nivens, balance by Rick Iossi)
Slate was the first diver that I know of to mouth feed barracuda, moray ells, grouper, whatever in the Keys on his world famous Creature Features. I can recall him showing me his collection of ripped up masks from cuda impacts over the decades. These fish aren't all that adept at stopping when in full feeding heat. I think he eventually started to sew up his own wounds to spare having to go to the Docs just like in "Roadhouse"?!
You can see his Creature Feature Movie Trailer below:
Full length film shot and edited by Frazier Nivens can be seen at:
http://www.taverniercinemas.com/
Slate and Capt. Scotty have taken me out for some interesting scooter free dives on the remarkable wrecks off Key Largo, some videos that I shot during these sessions appear below:
Free Diving the Duane
Free Diving the Speigel Grove
Again, both videos were shot with the GoPro WIDE camera while scooter free diving


***
http://www.hds.org/
I also visited the booth of the Historical Diving Society of the USA and signed up. These folks do a great job preserving the origins and evolution of diving and our great sport. It is worth our support plus you get a great magazine subscription out of it. It is easy to join online at:
http://www.hds.org/join.html
DEMA and the Historic Diving Society created an unusual exhibit, Diving On The Nine's." Or, a look at milestones that happened on the ninth year of various decades. Fascinating stuff!


***
Need to go towing? Here is a useful device, far better than the danforth anchor I used on occasion back in the day when nothing else was handy?! It's the Ray Board,
www.ray-board.com/


***
Here is the Buddy Link, an optical, auditory diver communication system. It uses an ultrasonic link useful out to about 100 ft. radius. It allows one diver to send an alert signal to his buddy (or a large group of divers), indicates receipt to the sender and allows the remote diver to respond in kind. It even lets you know with a light signal when you are getting out of range from your partner. The light is situated in the peripheral vision field of the diver. The unit is rechargeable and is rated for about 10 to 15 dives.
http://affinitydevices.com/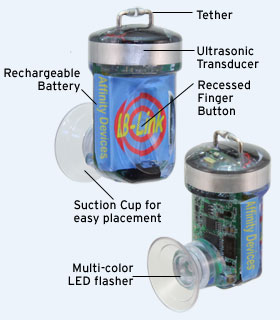 The buddy link is affixed to each divers mask plate by a suction cup and tether.
You can even try an online simulation of the device at:
http://affinitydevices.com/manual.html


***
From:
http://www.turtleprodshop.com
I met with Nicolas Barraque at his booth. He specializes in a wide variety of quality UW still imagery including striking panoramas such as the WWII submarine on even kneel off France shown above. This small reproduction doesn't do the print justice, it really is a striking image. This composite was comprised of 80 component images shot about 10 m from the vessel in 20 m visibility. He manually stitched the composite image. You can buy copies of these panoramas including large prints. I was happy to pick one up for my office wall. Bill Lipscomb of the South Florida Underwater Society,
http://www.sfups.org/
, suggested that Nicolas come down to shoot panoramas of some of our famous artificial reef ships. Sounds like a great idea to me. Bill and I went through the Ocean Engineering undergrad program at FAU a while back.
Nicolas has worked on many books, cards and promotions, usually in French (see below), including a new diving guide to Corsica. More about those at his website
http://www.turtleprodshop.com
.


***
Todd Essick is promoting a new project to be released in the new year I understand. It is a study of a striking oriental model free diving among a throng of unusual looking in Jellyfish Lake in Palau. He also has recently been on assignment shooting the next top model in Germany underwater in startling settings. I interviewed Todd a couple of years ago about his fascinating work and how he came to specialize in these compelling underwater compositions. It is a long way from AP sports photography, glad you made the move!
From:
http://www.asiangeo.com/
He is well known internationally for past efforts involving free diving models and marine life. Plenty of examples appear on his website,
http://www.essickphoto.com/
From:
http://www.asiangeo.com/
He prepared a collection of unusual photos in a coffee table book, ""Beginnings Goddesses, Sirens and Mermaids." Makes a great gift for those special divers or art lovers, given away a few myself.
Available at:
http://www.essickphoto.com/


***
That's a quick look at some of the exhibitors at DEMA 2009. Be sure to checkout the second installment of show coverage at:
http://fksa.org/showthread.php?p=42931#post42931
.