Neil Hutchinson of
Tiki Beach Kiteboarding
on Ft. Lauderdale Beach felt it was time for a kiting season
opener party. Neil and crew are famous for their caliber of parties. Let's check it out ...
The sun is setting and the Chief is getting ready for yet another Lauderdale Beach Bash.
Click For Full Sized Image
The guys are setting up at the Treasure Trove Bar.
Neil is getting organized and selling raffle tickets for some great prizes including Best and Slingshot kites
and a Cabrinha kiteboard.
Lots of people showed up including Chrys of
Bikinis-from-Brazil
, Maria of Kite4Girls fame, more
at:
http://fksa.org/viewtopic.php?t=731
and Amy on the right.
The Cabrinha crew showed up including Kent,
Susi Mai
, Garry and Paula.
Kent and Paula are engaged!
Lia of Best hangs out with Jordan
Folks are filling in nicely. I would guess 60 or more people showed up.
Kiting tattoos were available
The lucky guy in the middle is none other than the star of "TANGLED IN KITE LINES, DRAGGED UW BY KITE
IN 15 FT. WAVES." More at:
http://fksa.org/viewtopic.php?t=704
Group shot. Take note of Renear to the left of Paula. She is a distributor for a fine label of Bermudian ruhm,
Goslings
and a proud sponsor of things Tiki Beach.
Don't leave home without your Goslings, (small geese?)
Uh ... Slingshot meets Best, Neil and Brandon mug for the camera? I finally figured it out. All this light
wind has moved riders into trying Maori Kapa Haka dancing and related tongue work. Hey, it might help?!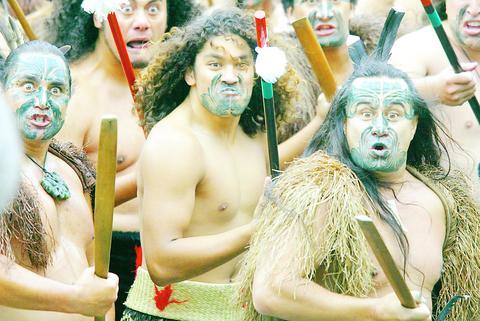 From:
http://www.taipeitimes.com/
Got wind?
Chris is taking a group of kiters on his catamaran island to island in the BVI this coming February. Tiki
Beach is promoting the trip. I kited down there six years ago during the HiHo in July, it was fun! Hitting
it when the Christmas Winds are on complete with swells should be even better!
Hey and it's not all about partying, well maybe not anyway. There are some great events flying in soon
for kiters around Florida.
The 25 mile downwinder course along Tampa Bay
More info at:
http://www.tampabaykitemasters.com/
and
http://fksa.org/viewforum.php?f=111
Next there is the approximate 60 mile downwinder from Jupiter to Ft. Lauderdale coming in November. More at:
http://fksa.org/viewtopic.php?t=2598
Lia and Chrys get in close while Garry spectates from behind.
So long for now, stay tuned though. Tiki Beach has an a lot of interesting kiting events on tap for this season ...
http://www.tikibeacheast.com/