THIS IS ON TOMORROW!!!
* OFFICIAL 24 HOUR NOTICE FOR CKA TOUR STOP #2 Cocoa Beach: As of Friday 2/7/14 the forecast is ON for this weekend at Cocoa Beach. Riders please show up at midday Saturday for Rider Meeting 12pm. We will run as many Divisions we can in the afternoon - Chaser Goodwin is bringing down a WINCH and there will be a Rail and Kicker - and party at Sandbar Sports Grill that night. Get in touch with Bret Sullivan or Good Breeze Kiteboarding for housing. Stay tuned for our an update tomorrow to confirm Divisions that will take place on Sunday 2/8-2/9.
*DO not forget to register ONLINE athttp://collegekiteboarding.com/events/upcoming/east-coast-tour-stop-3-520-slick-cocoa-beach-fl/
If you have any further questions, comments, or concerns feel free to message us on facebook or email us at
info@collegekiteboarding.com
. Visit us at collegekiteboarding.com
Like · · Share ·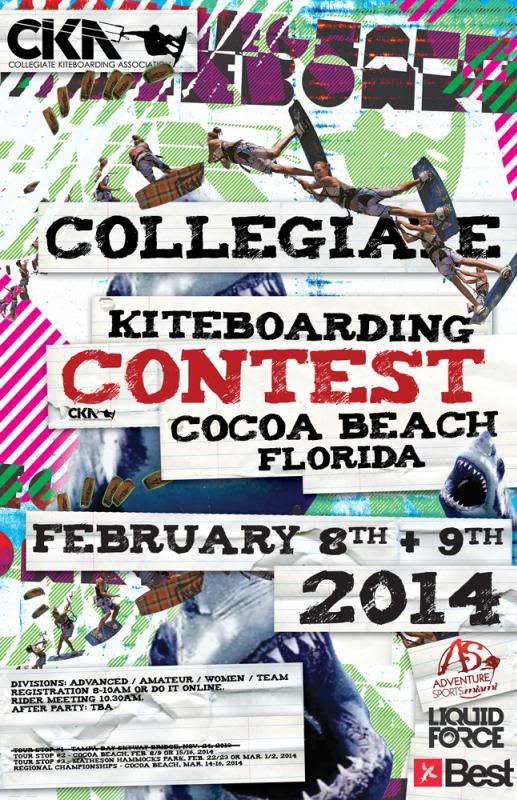 CKA teams and riders continue to compete in order to qualify for East Coast Regional Championships.
2 Freestyle Divisions: For intermediate and Advanced riders! Everyone Can compete!
With Race and Big Air Divisions as well!
Sponsors: Best Kiteboarding, Liquid Force Kitebaording
Prizes: Cash for 1st place in your division!
Best Demo!
The best day for the contest will be chosen and finalized 72 hours before the contest occurs (within the parameters of the two designated weekends) based on the best wind conditions available. On the chosen contest day Registration will open from 8am-10am, rider meeting at 10:30am, then begin heats at 11am. The contest format will be 12 minute freestyle heats with 3-4 competitors per heat, followed by a semi final and then a final. We anticipate this process to be anywhere from 3-4 hours long. Once the freestyle competition is concluded we will immediately start a short course race with a windward leward race course, which should take anywhere from 20 minutes to an hour. We will aim for awards ceremony to be around 5 pm, however if we have time we will try to run a "Big Air" contest(only if we have time). We will bring in 2-3 judges with experience in the freestyle discipline to help judge the contest. We will also bring in 5-10 volunteer students to help run the event.
Current rider rankings (Mens)
1st= Drew Christianson
1st= Sean Buell
3rd= Bret Sullivan
3rd= Julien Verglas
3rd= Lewis Hunt
Current rider rankings (Womens)
1st Jaime Fields
Current school rankings
1st Stetson
2nd FAU
3rd USF
4th= Rollings
4th= SCAD
6th FSU
In the event of a bad forecast for wind, the contest will be postponed until the following weekend.