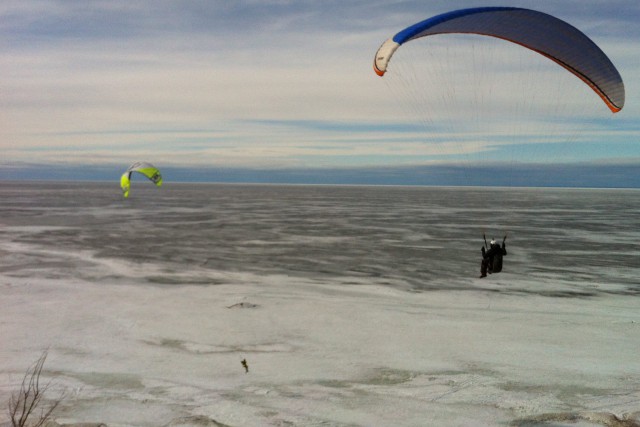 A nasty parapanting accident in Quebec last month. I put this up as a reminder for kiters to always try to make sure the area you are turning or jumping into is clear of obstructions/problems. People can move into this area from your blind side without your knowledge, including other kiters, windsurfers, boaters, etc.. Don't assume the area is clear, always look to try to verify it before transitioning, jumping, etc.. "Distance is your friend" for kiting and gliding. In this case, I am not even certain the kiter knew the parapanter was flying into his path or may have even been readily able to see him.
https://www.youtube.com/watch?v=0tBNoyCkpnw
He was transitioning, turning as the paraglider descended into his path. Regarding the paraglider, not sure what was going on. Was he sinking out suddenly below the lift band, heading rapidly to the LZ, were their alternate LZ's away from the kiter? In any case he pretty much flew into the kiter as he was transitioning from the jump. Considering the cold, possible numbed senses and reactions, it may have been hard to avoid a collision at that point. Things were changing for both guys and in the end, they were just too close together. Given the higher level of risk carried by the paraglider, it would seem logical that he would want to be more conservative in flight planning/execution. Given a choice, I would try to avoid kiting in close proximity to soaring aircraft assuming the gliders followed the same rule. I suspect this isn't practical in some areas of the world but might work at this area? I would be particularly careful, conservative in cold conditions considering what it can do to reaction times and effectiveness. It would be good for kiters and gliders to agree on some guidelines for this area of the lake. It is possible that paraglider is a kiter himself from information on his Facebook page, see below.
I found a news account about the incident in French at:
http://bit.ly/1FBgt5q
The article claims minor injury of the paraglider which seems to be in error from the pilots Facebook page (machine translated from French):
"Hello to all my friend (e) s!!
Friday, April 17, I had a serious accident of parapente. I am involved in a collision with a kite while I was doing the soaring on the edge of a small ridge at lac-st-jean. I am immediately autorotative party immediately go to hit the ground. I made a drop of approximately 10 metres. I had to wait for the relief for more than 2 hours and more than 3 hours before arriving at the hospital.
I just spent 13 days in the hospital in trauma: Double fractures of the basin, triple fractures of the right leg, 2 vertebrae of fractured.
The good news, the spinal cord is not affected.
For 3 months i'll be in wheel chair and then I débuterai my rehabilitation for another 3 months.
For those who know me, you know how this test will be difficult for me. On the other hand I am very well surrounded."
https://www.facebook.com/gary.chan.798278?fref=ts
.