Thanks for posting this Kent. It is supposed to be a production platform, meaning it manages crude transported to it through submerged pipelines from other rigs. It is not a drilling rig itself from what information is available currently. The location is described as:
"This was an oil and gas production platform in approximately 340 feet of water, 102 miles offshore Louisiana (80 nautical miles)," she said. "This platform was authorized to produce oil and gas at this water depth. The current suspension involves drilling rigs in water depths greater than 500 feet," she said.
http://edition.cnn.com/2010/US/09/02...W3yr&wom=false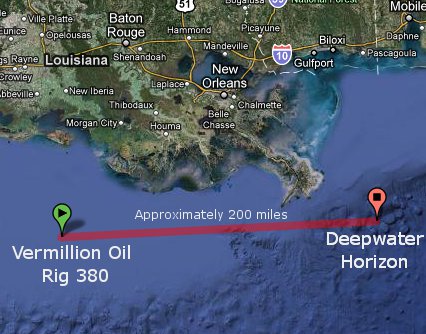 http://krogsgard.com/
An early photo reported to be of the Mariner platform fire
http://culturemap.com/
Here is a diagram of one production platform to identify the general configuration:
http://www.hydrotrole.co.uk/
There are numerous pipelines conveying crude from remote drilling platforms to the production unit. There appear to be subsurface valves and a surface hydraulic shut off unit in this case. There is nothing to say the platform burning is configured in this way however. Whether there are automatic shutoffs, whether they worked has yet to be discussed in the accounts I've been able to find.
"Oil sheen reported near burning platform: Coast Guard
HOUSTON | Thu Sep 2, 2010 1:24pm EDT
(Reuters) - The U.S. Coast Guard said a 1-nautical-mile-by-100-foot (1.85-km-by-30.5-meter) oil sheen had been reported at the site of a Mariner Energy platform in the Gulf of Mexico that was on fire Thursday after a morning explosion.
The fire on board the platform located 90 miles south of the Louisiana coast was contained as of 12 noon CDT (1700 GMT) but had not been put out, the Coast Guard said."
http://www.reuters.com/article/idUSTRE6814GI20100902
There was a catastrophic production platform fire in the North Sea that killed 167 workers in 1988. More about that at:
http://en.wikipedia.org/wiki/Piper_Alpha
It took three weeks to put that fire out complicated by 80 mph winds and 70 ft. seas at one point.
Piper Alpha fire in 1988
http://www.exponent.com/