An update from a press conference at the hospital today:
"Shark attack victim shares harrowing experience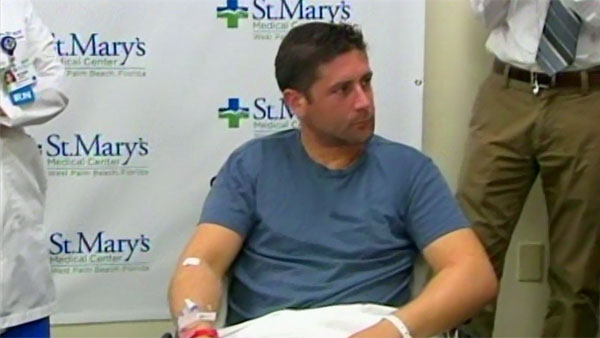 WEST PALM BEACH, FL (WPBF/CNN) - Experienced spear fisher, Anthony Segrich, met with the media to talk about his frightening encounter with a shark.
He was in the water with a couple of friends off Palm Beach in Florida when he said a 12-foot bull shark bit his leg.
Segrich and his friends were on their last dive for fish when the attack happened.
"We had shot two and came up from about 120 feet to about 60 feet and everything seemed fine," he said.
He said there were sharks around, but none of them seemed aggressive, but then that suddenly changed.
"Somewhere out of the north side, one came up, and started harassing the fish I hah. And uh, while I was protecting that fish and getting out of the way, I caught glimpse of one coming out of the north side that was probably only a couple feet away," he said.
That was the shark that bit him, despite his efforts to get away by putting his hand on its head.
"It grabbed me on the calf, and I knew immediately that I was bit," he said.
"It felt like a vice grip, and all I could really do was grab what was left and kinda, make it to my friends who brought me up."
He said the shark came back a second time, but fellow diver John went after it and kept it away.
Segrich lost more fat and skin, than muscle, so doctors expect him to be able to fully use his leg once he recovers."
http://www.wdam.com/story/14542463/s...ing-experience
"Man Bitten By Shark Talks About Ordeal - Shark Bite Victim Says His Friends Helped Save His LIfe
Angela Rozier, Reporter
WEST PALM BEACH, Fla. -- Shark bite victim Anthony Segrich was emotional in front of reporters Friday during a news conference at St. Mary's Medical Center.
The 33-year-old Delray Beach man described how he was bitten by a 12-foot bull shark Tuesday while spearfishing with friends about three miles off the Lake Worth Inlet.
Anthony Segrich says he was bitten by a 12-foot bull shark while spearfishing with his friends off the Lake Worth Inlet. Segrich said the shark took two bites out of his left calf.
"It grabbed me on the calf and I knew immediately I was bit," said Segrich. "It felt like a vice grip."
Doctors credit Segrich's experience and his friends who rushed him to the hospital with saving his life. They said he will still have to have more surgery but is expected to recover. Segrich plans to return to the water once he heals.
Read more:
http://www.wpbf.com/news/27721373/de...#ixzz1KwhAxB7j
"
On a later newscast tonight they said his partner was about 30 ft. away in 60 ft. of water (don't confuse the media with numbers, they use them almost arbitrarily) when the bull first struck. He moved over and tried to keep it from attacking his partner further. They said Anthony got 120 stitches to deal with the wound between his ankle and knee. He is expected to be in a wheelchair for some months but is expected to recover.